Non-profit FOUNDATION
The Foundation
The Tiny Living Foundation was founded in 2022. With our social projects, we give a helping hand to everybody that wants to live a more conscious and sustainable life to help and protect our environment. The foundation also advises on issues related to the Tiny Living Movement in the whole world.
The Tiny Living Foundation is a non-profit organization which is committed to support and help private and public Tiny House, social and environmental projects. We support Tiny House communities, Tiny House builders, Tiny House villages as well as social organizations, which stand for a better life in the future. The Tiny Living Foundation is committed to small living and environment. For future living for children, young people and for the elderly. 
An outline of our goals:
Support social projects, and future living for young and old
Make the Tiny Living Movement bigger
Advise on issues related to the Tiny Living Movement
Protect builders and their customers in the Tiny House industry
Participate in global Tiny House Standards
For more details about the foundation, please refer to the outline of the policy plan.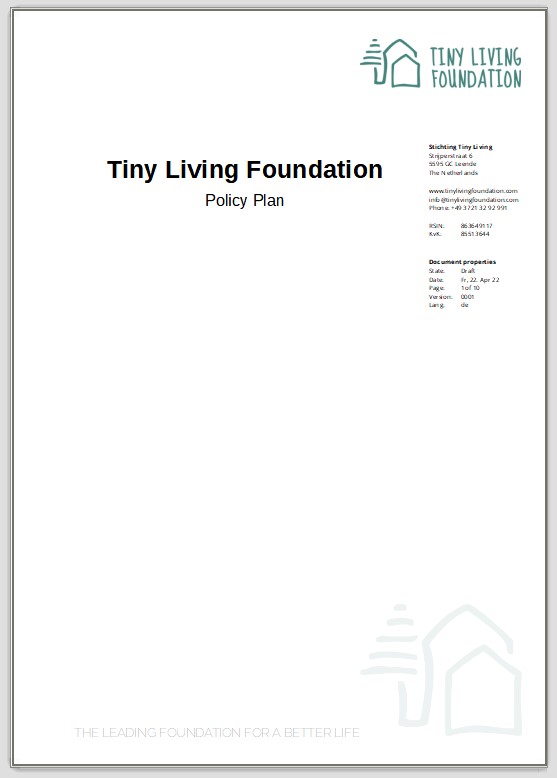 Policy plan
Outline of the policy plan
In this policy plan, you can read how the objective of the foundation will be fulfilled. To this end, we will discuss the activities of the foundation, the method of fundraising and the management of the capital or the income. We will also discuss the good causes for which the income is spent and the way in which this is done.
Board members
Position and names
Jan Schuetze
1. Chairman and Treasurer
Miranda van Mensvoort
2. Chairwoman and Secretary
Paul Driessen
General Board member
Additional information
Remuneration policy
The members of the foundation's board do not receive any remuneration for their work. However, the board can board may decide that they are entitled to reimbursement of the costs they incur.
Annual reports
We will publish our activities and the annual financial report here at the end of each year.
Helping hand
Projects of the Tiny Living Foundation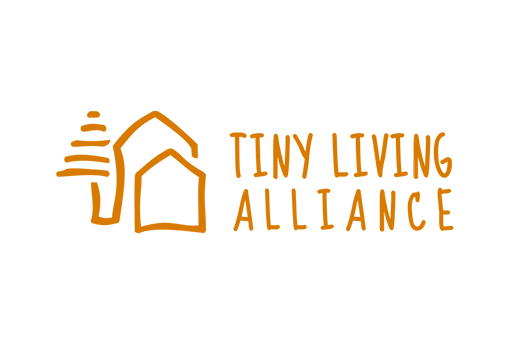 Tiny Living Alliance
Forming a network and protect Tiny House builders and their customers in the Tiny House industry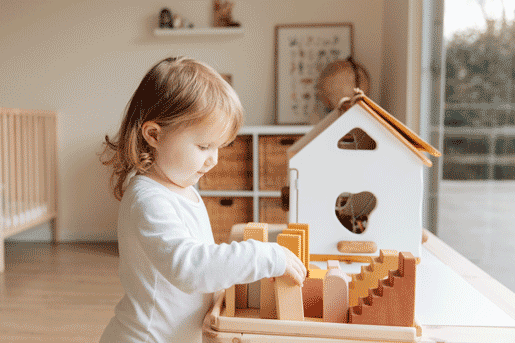 Tiny Living
Family
Accommodating and supporting people who (are going to) live in a sustainable Tiny Houses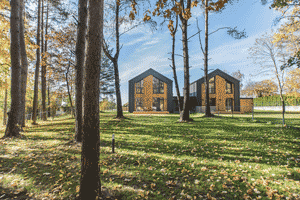 Tiny Living
Village
Assist and connect communities to create a Tiny Living stay and experience

Tiny Living Environment
Support and help organizations who protect our environment
How we finance ourselves
Everyone can help to support the Tiny Living Foundation
PARTNERS
Business solutions developed and delivered through digital interfaces that help businesses improve their trustworthiness and transparency to customers.
See our offers for business
DONATIONS
Tiny Living Foundation, is charitable. With your voluntary donation you can help us to uphold our platform and to cover costs such as rent, electricity, and staff.
Something tiny can make a big different